Peru Daily Travel Budget
February 9, 2018
Peru Daily Travel Budget: 2021 updated information about the daily budget needed for travelling Peru. Find out all of the information you need to know about the daily budget of travelling Peru from the cost of food, accommodation and transport.
Daily budgets for travelling Peru will change from person to person, so it is difficult to give an exact number. Even though travellers range from budget backpackers to luxurious travellers, here is an estimated cost of what it will cost on a daily basis to travel around Peru.
Travelling Peru's Daily Costs
Starting off by looking at the two most popular Peruvian travel guides' latest edition's, both of the budgets included are for low-spending backpackers looking to get around and do everything for as cheap as possible:
Lonely Planet Peru:  "a minimum of US$35 a day" (US$60-100 at the higher end)
Footprint Peru:  "US$25-30 for low-budget travel" (US$35-50 at the higher end)
To get by on Footprint's recommended $25 dollars would require really spending as little as possible. To live on that budget in Peru you would really need to be staying in the most basic hostels, eating as cheaply as possible at lunch menu restaurants (~$3-4 dollars for a starter and main course), doing the minimal amount of tours and excursions, and avoiding drinking alcohol except for having a few drinks occasionally.
---
ENTERTAINMENT TIP: If looking for fun at night, or to watch sports during the day, or even a taste of home, visit the Wild Rover Hostels Chain for great food, sports and beer! Entrance to their bars is free even for non-guests
---
The $35 dollars recommended by Lonely Planet is a more realistic budget and a good place to start for planning your trip to Peru. It is a better estimate for daily expenditure in Peru as a minimum. When planning out the budget for your trip, it is better to always overestimate the costs, even if it's only slightly, rather than being stuck without money while travelling.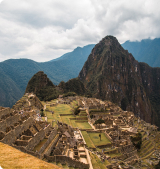 Peru's Covid-19 cases drop to record lows!
Remember, when traveling around Peru, Peru Hop is the only company offering flexible date changes until 2024 at NO extra cost. No airline, bus company or tour company offers such flexibility, on top of our stringent covid-19 protocols and safety procedures.
Additional Expenses with the Daily Budget
Even if you can get by pretty cheaply on a daily basis, it is very easy to go over the recommended $35 a day when some of the following things are included:
Transport – Buses: Even though buses around Peru are cheap enough, they add up due to the amount of them you will have to take around this big, mountainous country. Considering the overall cost of all the taxis to and from the bus stations as well, the budget costs can increase significantly. Alternatively, travelling with Peru Hop is also a good option as the cost of one pass covers all of your stops for 1 full year, with pick-ups and drop-offs provided from your accommodation. You also get to benefit from additional hotel and hostel discounts by travelling with them.
Transport – Flying: Although flights are available domestically throughout Peru, they can be expensive, especially depending on the company you travel with. Bus travel is the most popular method of transport for travellers and backpackers around Peru allowing you to really discover the real Peru. When the cost of a few domestic flights are added up, it can significantly raise a backpackers budget.
Tours and Treks: If it's your first time travelling to Peru, chances are that you are going to be visiting Machu Picchu. There's also the different treks you can do to Machu Picchu, such as the Inca Trail and the Jungle Trek, treks into the Colca Canyon, a flight over the Nazca Lines, a boat trip of Lake Titicaca along with much more. Tours to major attractions need to be thought-out carefully when planning out your budget for travelling Peru. To see the costs of different tours and treks around Peru, check FindLocalTrips.com to compare operators and prices.
Time To Travel: Depending on how long you have to travel around Peru, the daily budget expenditure will change. For example, if you have a lot of time to travel, you'll be spending less each day as the activities to do and places to see will be more spread out over time. On the other hand, if you're going to only be here for 1-2 weeks, you will be trying to squeeze a lot more into a shorter amount of time meaning your daily budget will rise. Even if your budget does go higher for a shorter amount of time, it will be worth it as chances are, you probably won't be back to Peru again!
Locations: Some destinations in Peru, especially those that are more popular amongst travellers along The Classic Gringo Trail, are more expensive than other locations. Make sure to check in advance the average cost of activities and hostels in order to be able to adjust your budget accordingly.
Average Peru Travel Budget
Generally speaking, a daily budget of $30-40 dollars would be a justifiable amount. Make sure to check out the general prices of transport, accommodation and activities while planning your budget to ensure you have enough throughout your trip.
Did you know
- The Lima Walking Tour leaves from the Tourist Information Center at 799 Avenida Jose Larco in Miraflores every day at 10:15 am. Visit our
Blog
for more information!