Travelling from La Paz by Bus: 2019 updated information about Bus Safety, The Best Bus Companies to take and their schedules.
Find out all the information you need to know about travelling by bus from La Paz including routes, best bus companies and much more with this helpful guide.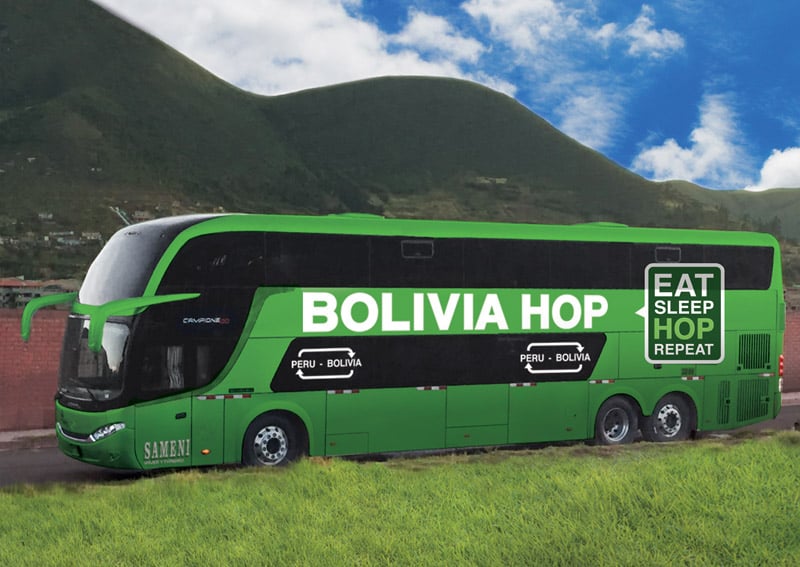 Buses going from La Paz travel in all directions. Going up to the North, buses travelling from La Paz include destinations such us Copacabana, Puno and Cusco.
Below is a list of the main bus routes going from La Paz along with their schedules. If you're looking for any more information about a specific route, click on the 'more details' button where you will find specific information about the route, the best bus companies and what to look out for when choosing a bus company to travel with.
| COMPANIES | SCHEDULE | DEPARTURE TIME | DEPARTURE LOCATION | ENGLISH SPEAKING ASSISTANCE |
| --- | --- | --- | --- | --- |
| CRUZ DEL SUR | DAILY | 12:00 , 14:45 and 17:15 | PUBLIC TERMINAL | NO |
| PERU HOP | DAILY | 06:00 and 07:00 | HOTEL PICK UP & DROP OFF | YES |
| TEPSA | DAILY | 14:00 , 15:30 and 17:30 | PUBLIC TERMINAL | NO |
| GREEN TOAD | WEEKLY | 03:45 | PUBLIC TERMINAL | NO |
As mentioned above, buses that leave from La Paz travel in all directions. For any trip to Peru, it is highly recommended that you visit places like Huacachina Oasis, Paracas and Puno (Home to The Uros Floating Islands). There is much more to Peru than Machu Picchu, so bus travel is a great way to get around and see this amazing country.
Simply choose the best bus company and enjoy this amazing country!
Quick Tip:
  If traveling to or from Lima Airport, it is strongly recommended to use the luxury
Airport Express Lima
bus to get to or from your hotel. Safer and cheaper than a taxi with no baggage limit as well as Free WiFi and USB chargers onboard, it is ideal for travelers.
YOU MAY LIKE
These Hidden Destinations Just Outside Of Lima Will Blow Your Mind!
How I Spent 50% Less And Saw 50% More Than The Typical Tourist In Peru
Machu Picchu - What Travel Agencies DON´T Want You To
Know
This Is Not A Mirage! This Peruvian Desert Oasis Is Shocking The
World!
Don't Waste Your Time In Lima! 10 Things You Can Do In The Capital City
Lima To Machu Picchu - What The Guidebooks Would Never
Tell You
The Travelers Guide To The Ultimate Salt Flats Experience
(And Photos)
Don't Miss These 35 Personalized Bus Routes to Cusco From
Lima
Discover why this bus company in Ecuador was voted No.1 on Trip Advisor in 2018
Benefits Of Travelling Peru By Bus That Airlines Don't Want You To Know About