Peru's Most Popular Travel Itinerary: The Gringo Trail
January 30, 2018
The "Gringo Trail" is the most popular route that tourists travel on while in Peru. It consists of a convenient itinerary which follows a direct path and stops off in all of the most famous destinations in Peru, hence making it the most popular route to take. Most travellers will find themselves travelling on this route at one point or another during their time in Peru. The gringo trail is also the best option for anyone planning a trip to Peru with limited time while still wanting to see as many of the major sites and attractions as possible.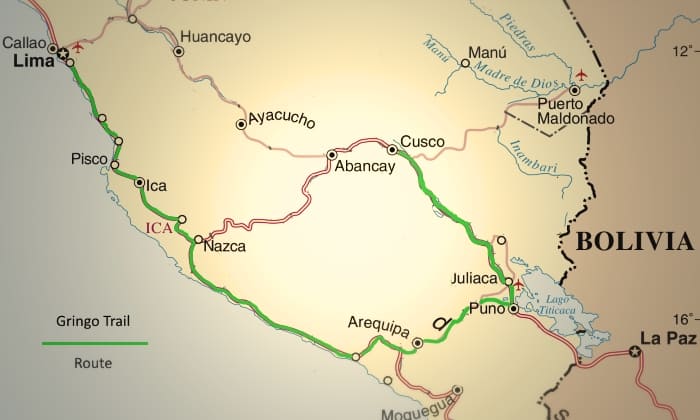 THE ONLY PERU GUIDE TRAVEL TIP
: Save money and stay safe when going to/from Lima Airport by using the Official Bus service inside the Airport called
Airport Express Lima
What's So Special About Peru's Gringo Trail?
So what exactly is the Peruvian Gringo Trail? What are the main attraction along the way and where does it go?
In general, most people travelling by air will start of their Paruvian adventure by landing in Lima, the capital of Peru. It is also the ideal place to start the classic gringo trail (rather than in Cusco) as this way, you can follow the U-shaped route easily and take a flight back to Lima at the end before going back home or continuing to somewhere else. The major stops and attractions along the gringo trail are the following, listed respectively from Lima:
Lima: The start of the classic trail begins in Lima, Peru's metropolis. Lima is a city which deserves a few days as there is a lot of history, museums and sights to see. Not only this, but there are many other things to do in Lima such as going to some of the world's best restaurants, visiting the beautiful Bohemian district of Barranco, going to the beach and going to some of the nicest bars and clubs you will find. Once finished in Lima, it is time to book a bus to the next stop along the classic gringo trail.

---

ENTERTAINMENT TIP: If looking for fun at night, or to watch sports during the day, or even a taste of home, visit the Wild Rover Hostels Chain in Arequipa, Cusco and La Paz for great food, sports and beer! Entrance to their bars is free even for non-guests

---

Paracas/Pisco: Travelling south down toward the coast from Lima, within about 4 hours, you will arrive in Paracas which is in the Pisco region. After you enjoy a few pisco cocktails such as the pisco sour, you will hop on a boat to the Ballestas Islands, also known as the "Poor Man's Galapagos", and the Paracas National Reserve, the largest protected reserve in the America's!
Huacachina/Ica: About an hour from Paracas, you will find the town of Ica which is home to the nearby desert oasis village of Huacachina. Huacachina is the only desert in South America and the best location in Peru to do sandboarding! As if this wasn't enough, due to Huacachina still being in the Pisco region, you can enjoy a pisco sour before sandboarding the giant dunes in the endless desert!
Nazca: After Huacachina, continuing on south is Nazca, home to the world-famous Nazca Lines. The Nazca Lines are giant, ancient geoglyphs that are best seen from the air via a flight in a light aircraft.

Did you know

- Lima gets VERY hot between January and May. Stay at

Pool Paradise Lima

to enjoy the sunshine!

Arequipa:

Known as "The White City", Arequipa is one of the most beautiful destinations in Peru, full of colonial architecture and great atmosphere. There are a lot of natural attractions nearby which makes the city a popular location for trekkers and climbers. The attractions include the infamous El Misti volcano which towers over the city and the 2nd deepest canyon in the world, The Colca Canyon, both of which you can do tours of.

Puno:

Home of Lake Titicaca, the highest navigable lake in the world, Puno is found once you go east from Arequipa, into the mountainous highlands. There are many different attractions to discover in this amazing part of Peru which includes the Uros Floating Islands. The floating islands are a great experience although very touristy, but easily doable as a day trip from Puno. There is much more to see for history buffs around Puno as this city has something to offer for everyone.
Cusco: The last stop on the classic gringo trail and home to Machu Picchu, Cusco is the main reason people visit Peru. There is so much to do in Cusco and the surrounding areas such as visiting the Sacred Valley, Machu Picchu and Cusco town itself. Going to Machu Picchu, you can do one of the famous treks such as the Inca Trail, the jungle trek or the Salkantay trek. If you're short on time or not interested in the treks, you can also alternatively take the train to Aguas Calientas followed by the shuttle bus to Machu Picchu. If you don't want your journey to end here, you can continue on to the Peruvian Amazon to Puerto Maldonado and Manú National Park from Cusco.
Although there are plenty more interesting attractions and places that lie along the gringo trail, you now know the basic and most popular version of the route. From Cusco, you can return to Lima from Cusco by bus via the above route. or take the shorter, more direct route through the west. If short on time, you can alternatively take a quick flight back to Lima from Cusco, although it is more expensive.
How Much Time do I Need on the Gringo Trail?
To see everything properly and take part in some of the activities in the above mentioned destinations, we recommend a little over 2 weeks (especially if you're doing a trek to Machu Picchu and want to see Cusco). You could also fit everything into two weeks, if you don't stop off at all of the destinations. It is possible to squeeze everything into a week but you will be very short on time and will miss out on a lot of Peru. It will involve doing no tours and only spending one or two days max in each location.
The gringo trail is the most popular route taken by travellers for a reason. All of the sites are more interesting than the other, and the tourist infrastructure is reasonably well established. Additionally, following the gringo trail is easy to navigate and it allows you to acclimatise on your way to Machu Picchu.
Being the most recommended route, we strongly recommend people to check out Peru Hop. A relatively new company that operates a hop on hop off bus around all of the destinations on the trail plus more. They allow you to spend as little or as long as you want in any of the destinations, and have many different routes and passes to get you to Cusco or any other place in Peru as well as Bolivia. Not only do they provide the highest quality of service and security, an additional benefit of travelling with them is that they provide hotel/hostel pick-ups and drop-offs in all destinations so you don't have to take any taxis, go to crowded public bus terminals or carry around your newly filled suitcase of souvenirs from Peru!
If this blog post has caught your interest or attention, and you have plans for doing this trail, we suggest you check out FindLocalTrips.com, a tour comparison website with heaps of info and all the different options for taking that trip of a lifetime.
YOU MAY LIKE
These Hidden Destinations Just Outside Of Lima Will Blow Your Mind!
How I Spent 50% Less And Saw 50% More Than The Typical Tourist In Peru
Machu Picchu - What Travel Agencies DON´T Want You To
Know
This Is Not A Mirage! This Peruvian Desert Oasis Is Shocking The
World!
Don't Waste Your Time In Lima! 10 Things You Can Do In The Capital City
Lima To Machu Picchu - What The Guidebooks Would Never
Tell You
The Travelers Guide To The Ultimate Salt Flats Experience
(And Photos)
Don't Miss These 35 Personalized Bus Routes to Cusco From
Lima
Backpacker News: Lima's First Pool Hostel Has Just Opened It's Doors And It Looks Incredible!
Discover The Incredible Creatures You Can Find On The Peruvian Galapagos
Benefits Of Travelling Peru By Bus That Airlines Don't Want You To Know About