Visiting The Amazing Humantay Lake In Cusco
May 31, 2019
When visiting Peru, taking a journey to see Humantay Lake in Cusco is guaranteed to help make your trip absolutely unforgettable. Located at 4200 meters in altitude in the Andes, the only way to see this incredible beauty is by braving the hike to it.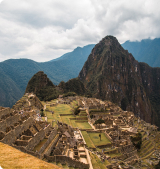 Peru's Covid-19 cases drop to record lows!
Remember, when traveling around Peru, Peru Hop is the only company offering flexible date changes until 2024 at NO extra cost. No airline, bus company or tour company offers such flexibility, on top of our stringent covid-19 protocols and safety procedures.
Where Is Laguna Humantay?
Peru is a country rich with culture and natural beauty. Known for the advanced civilization of the Inca, and the many breath-taking destinations both man-made and natural. One of the best examples of natural beauty is Humantay Lake, which is a few hours drive and a short (but steep) hike away from the city of Cusco.
Humantay Lake is in a region of Peru that is extremely rich in Inca history. Sitting right off of the Salkantay glacier and close to the Inca Trail, Humantay Lake can only be accessed via hiking. The Salkantay Trail runs between mountains Salkantay and Humantay, which are a part of the Vilcabamba mountain range several hours outside of Cusco.
The water in the lake offers one of the most spectacular natural colors in Cusco, Peru. The trek up to Humantay Lake does take a bit of effort and is rated as moderate on the scale of easy to difficult- but this changes according to how well you have acclimatized beforehand. The end result of being able to stand in the midst of snow-capped mountain peaks, on the edge of a turquoise lake makes it well worthwhile for those who are seeking out natural beauty.
The History Of Humantay Lake
Humantay Lake is called Laguna Humantay in Spanish, and it is thought that the Laguna was a sacred area to the Incas. Even today, the lake is a sacred place, often visited by shamans and other spiritual travelers. It is traditional for travelers to leave a small offering called an 'Apacheta' at the edge of the lake for the Pachamama (the Incan mother earth).
If you would like to join the ritual of making an offering while you visit the laguna, then first you must select the rock that you will be leaving as an offering. Thank the Pachamama for your safe arrival to the laguna, and ask her to continue to accompany you on your expedition before placing the stone on top of another, much like in the picture.
Getting To Humantay Lake
Your options for getting to Humantay Lake from Cusco are by taking either a bus or van to the village of Soraypampa and then hiking. Your choice here comes down to your personal choice, taking a group tour or do your own thing. When deciding, consider your hiking experience and how much time you have to visit. This will help you to choose the better option for you.
Booking A Tour
If you are leaning towards the idea of finding and booking a tour, you can do so online or in-person at a local tour operator. It's not too hard to find a local tour operator. You can find a number of them in the main square in Cusco. Be careful to haggle with the price, as many tour operators may try to overcharge you, and be sure to be firm about what is included, it is common for travelers to be surprised by the costs last minute.
An alternative to dealing with the stress and hassle of in-person booking, you can find a tour operator online.
Use FindLocalTrips to search and compare many different tours from reputable operators, with no hidden costs. We recommend Kantu Peru Tours or Haku Travel for fun day tours and easy transportation. Both offer some really amazing packages if you're looking to visit the area with a local guide.
Both of these companies offer breakfast, lunch, and transportation to the hiking point in the town of Soraypampa. Once there, you will hike with a guide for roughly 1.5 hours to Humantay Lake. In total, a trip to Humantay Lake takes about 3 to 4 hours to hike. This doesn't account for any time that you spend exploring and enjoying the area of Humantay Lake, so expect to spend the full day here.
What To Do At Humantay Lake
You will find a number of people doing different outdoor activities at the lagoon. You can find visitors exploring, hiking, mountain biking, swimming, and even paddleboarding in the turquoise waters.
Many visitors and travelers come to see the beautiful water that has been formed over many years from snow thaw. With green landscapes, white mountain peaks, and turquoise water, the Humantay Lake is truly remarkable and absolutely breath-taking.
Tips For Visiting Humantay Lake
When you are planning your adventures in Peru, there are a few things that should be remembered as you plan to face the elements. Remember, you can never over-plan for a trip to travel abroad. When planning your visit to Cusco, Peru, remember these important tips.
Sun Protection
You can never be too careful when it comes to protecting yourself from harmful UV rays. The higher the elevation, the harsher the effects of the sun. Wearing sunscreen or sunblock is essential, especially at an altitude of 4,200 meters above sea level.
Preventive Care
Anytime you do any extensive outdoor activity, it's a good idea to have a first-aid kit somewhere nearby. You may also wish to bring elevation sickness pills, which can help prevent illness from not acclimating properly to high elevations.
Snacks And Water
Hiking for 3 to 4 fours can take a lot out you, especially when you consider the extreme elevation. It is vitally important to make sure to bring enough water with you for your journey. The hike is a little strenuous so it's also a good idea to bring some type of snack to help replenish your depleted energy levels.
---
Peru is home to lots of historical and breath-taking locations but none are quite like Humantay Lake. This hidden gem is a lake that welcomes visitors with its mystic turquoise water is truly a must-see of Cusco, Peru. With tours readily available, experiencing the magic of Humantay Lake doesn't have to be a dream anymore.
Did you know
- The Lima Walking Tour leaves from the Tourist Information Center at 799 Avenida Jose Larco in Miraflores every day at 10:15 am. Visit our
Blog
for more information!