Cruz Del Sur – The Best Bus Company in Peru?
January 31, 2018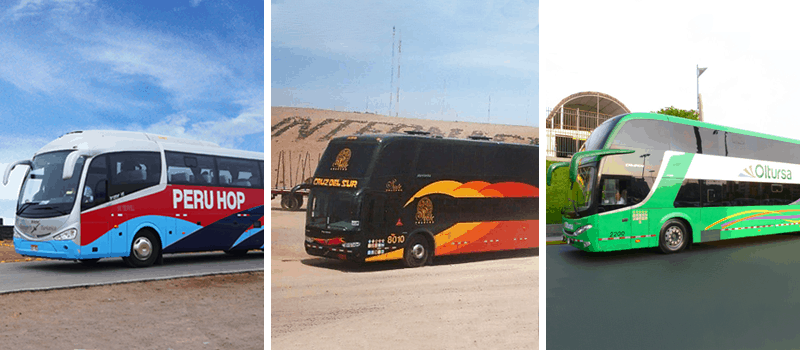 2018 updated information: Not only one of the most well-recognised bus companies in Peru, Cruz del Sur is also one of the most recommended companies around. But, with the emergence of the unique, increasingly popular hop on hop off bus company, Peru Hop, and with improvements made by the other local bus companies such as Civa, Movil and Oltursa, the question on everyone's mind is if Cruz del Sur are still the best option for transport around?
Cruz del Sur Bus Coverage
With terminals in pretty much every major city in Peru, going from Tumbes in the north to Tacna in the far south and around 25 different destinations in between, Cruz del Sure have the best domestic coverages of any Peruvian bus company. These also include all of the main destinations along the coast and highlands in cities such as Huaraz, Huancayo, Cajamarca, Cusco, Puno and Arequipa.
| | |
| --- | --- |
| Company | Main Destinations (Updated 2018) |
| Cruz del Sur | Ica, Paracas, Cajamarca, Huaraz, Huancayo, Ayacucho, Cusco, Puno and Arequipa |
| Peru Hop | Ica, Paracas, *Huacachina(Peru Hop is the only direct bus to Huacachina in Peru. If taking a public/local bus, you would need to take a bus to Ica. Once in Ica, you would need to find a local taxi to then take you to Huacachina), Nazca, Arequipa, Puno and Cusco. |
| Movil | Arequipa, Ayacucho, Chachapoyas, Cusco, Huaraz, Oxapampa, Trujillo, Puerto Maldonado |
| Oltursa | Arequipa, Cusco, Huancayo, Huaraz, Ica, Chiclayo, Huancayo, Mancora, |
| Civa | Amazon, Ayacucho, Cusco, Ica, Piura, San Martin, Apurimac |
*=Exclusive Stops
This round has to go to Cruz del Sur due to the number of destinations they go to.
Cruz del Sur Tripadvisor Reviews
Althought their coverage might be excellent, their reviews online have not always been so favourable.
On tripadvisor they have the following reviews:
| | | | |
| --- | --- | --- | --- |
| Company | 5 Star Ratings | 1 and 2 Star Ratings | Overall Rating |
| Cruz del Sur | 195 out of 527 total reviews as of 20th September 2017 | 91 out of 527 total reviews as of 20th September 2017 | 76% |
| Peru Hop | 1,016 out of 1,251 total reviews as of 20th September 2017. | 26 out of 1,251 total reviews as of 20th September 2017. | 96% |
| Oltursa | 12 out of 36 total reviews as of 20th September 2017. | 12 out of 36 total reviews as of 20th September 2017. | 56% |
| Movil | 7 out of 36 total reviews as of 20th September 2017. | 9 out of 36 total reviews as of 20th September 2017. | 53% |
Cruz del Sur International Services
As well as having the best domestic route coverage in Peru, Cruz del Sur journey to more international destinations than any other Peruvian bus company. Going up towards the north, their buses run to Guayaquil and Quito in Ecuador, all the way up to Cali and Bogotá in Colombia. Going down south, Cruz del Sur also go as far as Santiago in Chile as well as routes into Argentina; one going through Córdoba and one through Mendoza, both ending in Buenos Aires.
Although Peru Hop mainly go to the south of Peru, they also have stops in La Paz and Copacabana in Bolivia, with their sister company Bolivia Hop.
Due to the number of international destinations, Cruz del Sur beats Peru Hop, Civa and Oltursa here.
Cruz del Sur Comfort
Cruz del Sur are a company which heavily invest in their fleet as their buses are amongst the top of the range. While their safety levels have been and are questionable, especially on routes leading to Cusco, their buses are always comfortable.
---
ENTERTAINMENT TIP: If looking for fun at night, or to watch sports during the day, or even a taste of home, visit the Wild Rover Hostels Chain for great food, sports and beer! Entrance to their bars is free even for non-guests
---
As Peru Hop are a relatively new company, operating for almost 5 years, all of their buses are brand new with reclining seats, USB chargers and 24/7 GPS monitoring for extra safety. For safety reasons, they don't invest in double-decker buses as most of the routes anywhere near the mountains are windy, narrow, and go up and down massive distances of altitude. Because of this, Peru Hop's buses aren't as big which means they can get as many passengers on board. Additionally, like other bus companies, they don't have different classes of seats on their buses which means you never have to worry about paying an unnecessary extra fee for a comfortable seat.
Both Oltursa and Civa have a range of buses varying from luxurious to average. The option of bus will really depend on the length of the journey, the route it will be going on and how much you're willing to pay. Although both Peru Hop and Cruz del Sur have luxurious buses, this round has to go to Cruz del Sur due to the sheer number of buses they own and the consistent comfort found across their entire fleet.
Cruz del Sur Safety
When it comes to safety, Cruz del Sur have been involved in a number of incidents involving hijackings which you can find out more about by googling or going on their Tripadvisor page. And based on how they respond and deal with incidents, they leave a lot to be desired. Of course, as a tourist in Peru, there is not a lot you can do and Cruz del Sur tend to take advantage of this. Many times in the past, they have not been helpful towards customers, leaving them stranded by not offering any kind of compensation. For this reason, travelling with a more reputable company dedicated to tourists, such as Peru Hop or Inka Express, is probably a much better option for those that are more safety inclined. Due to the reasons mentioned above, this round easily goes to Peru Hop hands down, with a draw between Oltursa and Cruz del Sur in second place.
Summary
Although Cruz del Sur offer more coverage through both their domestic and international services, Peru Hop win based exclusively on their Tripadvisor reviews, showing they are more focused on providing outstanding service in the tourism market, and for safety which can't be emphasised enough.
However, don't get us wrong. We're not trying to advertise for Cruz del Sur or anything, we just want to give readers useful insights to let them decide for themselves which is the best bus company in Peru. Cruz del Sur tend to be a good all-around service with surprisingly decent food. Somethings regarding their service might be questionable, but it's not a deal breaker for everyone.
If it is your first time coming to Peru, Peru Hop is a much better way to see Peru as their extra exclusive stops allow passengers to see more. As well as this, their hotel/hostel pickup and drop-off service in all destinations is also a bonus as it means you don't have to take any local taxis or journey to crowded public bus terminals. For travel in neighboring Ecuador, also consider Ecuador Hop. If you would like a little more reassurance of their services, check out some of the reviews.
Everything on this site is only an opinion and we recommend you use travel blogs or tripadvisor to help you make your decision as to the best way of getting around this amazing country. You can also read our post on The Best Bus Companies in Peru.
Did you know
- The Lima Walking Tour leaves from the Tourist Information Center at 799 Avenida Jose Larco in Miraflores every day at 10:15 am. Visit our
Blog
for more information!