Civa Bus
January 31, 2018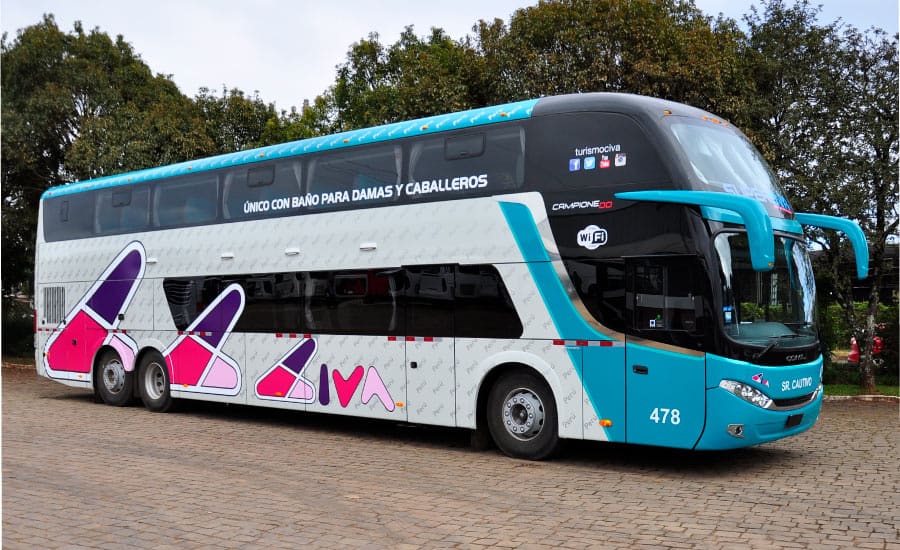 Travelling with Civa: 2020 updated information about Civa buses, their routes and schedules. Find out all the information you need to know about travelling with Civa before you book your ticket with them through this helpful guide.
OVERVIEW AND HISTORY
Having over 45 years' experience in the bus industry, Civa is one of Peru's most popular bus companies. Covering most of the routes in Peru, they have daily departures from all of the main cities such as Lima, Trujillo and Arequipa. For 15 years, from 1999 to 2014, Civa were the official bus company for Peru's national football team. They were also once pioneers in the bus industry in Peru as they were the first company to bring on-board hosts/hostesses on to their buses! Civa have earned themselves a good reputation throughout the years for their customer service, comfortable buses (160-180° cama/semi-cama seats) and by starting to operate along more routes in Peru.
TYPES OF BUSES IN OPERATION
CIVA have 3 different types of buses in operation for transporting passengers and one type for carrying heavy loads:
THE EXCLUCIVA – These buses are for luxury travel with CIVA, they offer seats with 160° and 180° recline, LCD monitors, GPS tracking systems, a host/hostess, WC, and a speed controller (90 km/h)
THE SUPERCIVA – The first floor has 140° semi-bed seats, the second floor has 160° semi-beds seats, there is a host/hostess on board, a WC, a GPS system, and a speed controller (90 km/h)
THE ECONOCIVA – All seats recline up to 140°, WC, GPS system, DVD and speed controller (90 km/h)
CIVA CARGO – with this bus, you can send anything from a suitcase to a letter. All CIVA CARGO buses are monitored with GPS, and they let you know once the parcel arrives to its destination.
---
ENTERTAINMENT TIP: If looking for fun at night, or to watch sports during the day, or even a taste of home, visit the Wild Rover Hostels Chain for great food, sports and beer! Entrance to their bars is free even for non-guests
---
ARE CIVA SAFE
Civa definitely provide a good standard of service with safe and comfortable buses. However, as with many other Peruvian bus companies, they suffered a hijacking in March 2015, which happens quite often on some routes (especially on the shorter route from Lima to Cusco), because they take the slightly faster, more dangerous way. Along with this, there have also been videos of a bug manifestation on a Civa Bus.
To ensure traveller comfort, safety and security, tourist bus companies such as Peru Hop travel on the slightly longer, safest route to get from place to place which usually isn't convenient for locals as it means travelling for longer. Locals, in general, need to get to their destinations faster, so for them, taking the risk of travelling with Civa or other local bus companies is not as much of a consideration.
ROUTES AND BUS SCHEDULES COVERED 
Civa cover a range of different cities in the North such as Chiclayo, Mancora, down towards the South to places like Puno and Cusco, and in more Central locations to Ayacucho and Chincha. All of Civa's schedules and bus routes are available on their website.
DO WE RECOMMEND TAKING CIVA?
Yes, if you're looking for luxurious travel around the north of Peru in style. Civa's upper classes buses have one of the best services with their 180° reclining semi-bed seats, although you will pay significantly more for these tickets. Travelling on these buses mean getting a good nights sleep on a long journey and not arriving as tired as you usually would to your destination. Their more economical buses, however, are much less comfortable. Our recommendations for all travellers who are planning to travel around the south of Peru without sacrificing comfort while still on a budget is to travel with Peru Hop. In our opinion, they are much a safer option and a better bus company.
What do you think? Do you agree with us or disagree? If you've ever taken Civa or another company that wasn't mentioned in our article, let us know what you think in the comments section!
Did you know
- The Lima Walking Tour leaves from the Tourist Information Center at 799 Avenida Jose Larco in Miraflores every day at 10:15 am. Visit our
Blog
for more information!