Quick Summary
It is best to avoid the wet season from December through until the end of March. Low lying clouds and rain during the wet season can affect visibility at Machu Picchu. May – September & December is considered to be peak season at Machu Picchu, often reaching maximum capacity for entrance tickets. We will discuss when to go to Machu Picchu in the content below.
Alternatively, if you wish to search and compare different options and operators for tours to Machu Picchu right away, take a look at this page on FindLocalTrips.com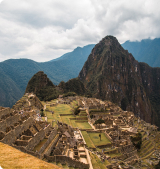 Peru's Covid-19 cases drop to record lows!
Remember, when traveling around Peru, Peru Hop is the only company offering flexible date changes until 2024 at NO extra cost. No airline, bus company or tour company offers such flexibility, on top of our stringent covid-19 protocols and safety procedures.
The Dry Season (April – September)
From mid-April through until the end of September is considered the dry season at Machu Picchu. Days are bright and sunny with daily average temperatures of 18 °C (64 °F), after sunset (around 6.15pm) temperatures drop down to around 10 – 12 °C (50 – 54 °F) and evenings are cooler. Humidity is also at its lowest during the dry season, remaining stable at 45 – 55%. Any month during the dry season is considered a good time to travel.
Misty Mornings
For early morning visitors to Machu Picchu low level cloud is often prevalent until 9am. This may affect visibility and views if visiting the view point of Huayna Picchu, Machu Picchu Montana or the Sun Gate (Inti Punku). Low level broken clouds can also add to the mystical effect of visiting Machu Picchu.
The Rainy Season (November – April)
From mid-November until the end of April is considered to be the wet season, with the peak rainfall occurring during January and February. Although it may not rain every day or for even for a few days at a time, there is a significant chance that you will encounter wet weather. Be prepared with appropriate clothing and even an umbrella. Daily temperatures average 18 °C (64 °F), but unlike the dry season, night time temperatures are just a few degrees lower.  Humidity ranges from 60 – 65% during these months.
Disruptions Caused by the Rain
Although most Peru travel agents might not like to admit it, to one extent or another, rain often causes disruptions to travel to Machu Picchu. This is particularly relevant during the months of January and February when the rainfall is at its heaviest. There are two main areas where problems frequently occur: 1) on the trains to Machu Picchu, 2) domestic flights in and out of Cusco (see below for more information).
Trains & Land Slides
After constant and often torrential rainfall in December and January, much of the terrain around the area of Machu Picchu, Cusco and the Sacred Valley becomes more unstable and susceptible to landslides. As the rain continues into February, it is not uncommon to hear of landslides blocking the train route from Ollantaytambo to Aguas Calientes / Machu Picchu. Although often dealt with swiftly, landslides can cause delays or disruptions of a few hours, or on some occasions days at a time. If Machu Picchu is your main reason for travelling to Peru, ensure that you have a few days leeway just in case it is needed.
Flight Cancellations from Cusco
During the wet season in Cusco mornings are typically clear and sunny, with stormy wet weather closing in by mid to late afternoon. For this reason there is an increased risk of flight delays and even cancellations for afternoon flights. LAN and TACA operate superior on-board navigation equipment which allows them to take off and land during adverse weather conditions, but from our 7 years of Peru travel planning experience, this is not often the case. Morning flights are recommended with Star Peru and Peruvian Airlines.
Adjusting to Altitude Getting to Cusco
For a lot of travellers, notably ones who acclimatize slowly, the repercussions of being at a high altitude will only be shortness of breath and a weak headache. However, if any of these repercussions get worse or fail to diminish after a few hours, it can become an urgent or even life threatening issue, and should not be treated without caution.
Extra planning should be done to make sure you protect your health as much as possible.
The widely supported approach to acclimatization is to ascend gradually settling for at least 24 hours at every 2000ft. increase in altitude. If going from Cusco to Lima we highly recommend to follow Peru Hop's route by the coast and up to Cusco from the amazing city of Arequipa. This route ascends gradually which will give you some important time to acclimatise to the thinner air and help prevent any issues when visiting Machu Picchu or any other attractions around Cusco. Travelling by bus is perfect for people likely to suffer from altitude sickness as the slower ascent helps hugely compared to flying direct to a high altitude from sea level.
As you reach higher altitudes follow these simple steps:
Drink a lot of water.
Try not to drink too much alcohol.
Eat small meals
Restrict exercise (initially)
Plan carefully and don't allow that dream adventure turn into a nightmare by having to fight altitude sickness.
THE ONLY PERU GUIDE TRAVELING TIP: Peru Hop buses are the best and safest way to get to and from Cusco, home of Machu Picchu.
Avoiding the Crowds
As one of South America's most popular tourist attractions, you can be assured that Machu Picchu will be busy throughout the year. May – September plus the month of December receive the most visitors, with June (around Inti Raymi) being the most crowded. A few times a year, when peak tourism months and Peruvian National holidays coincide the 2,500 daily ticket limit can be reached. Visit during the months of October – November and January – May for the least amount of crowds. Visiting Machu Picchu after 4pm in the afternoon is also a good way to avoid crowds (any time of the year).We recommend you book your tour online in advance to ensure you get the exact ticket you are looking for.