Cruz Del Sur Bus
January 31, 2018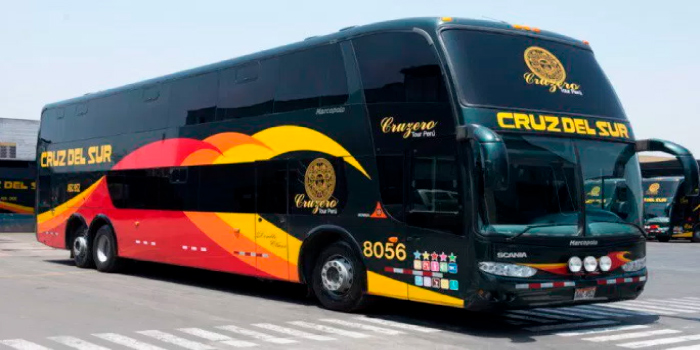 Travelling with Cruz del Sur: 2020 updated information about Cruz del Sur buses, their routes and schedules. Find out all the information you need to know about travelling with Cruz del Sur before you buy your ticket through this helpful guide.
CRUZ DEL SUR OVERVIEW AND HISTORY
Operating in the Peruvian market for over 50 years, Cruz del Sur has become one of the most popular bus companies in Peru. They were the market leaders for tourists around Peru due to their focus on quality and comfort until 2015, when a new tourist bus, 'Peru Hop' began its services, solely concentrating on providing the best all-around service for travellers in Peru. It was up until then that Cruz del Sur transported the majority of tourists around Peru on their comfortable buses, and still even today, some tourists still choose to travel with this service.
TYPES OF BUSES IN OPERATION
With a large variety of different types of buses, Cruz del Sur range from modern, comfortable buses with personal TV's and large cama (bed) seats, to some which are more basic, have smaller seats and are more economical. Below you will find the different types of buses they use.
The Cruzero Suite: These are the best buses by Cruz del Sur´s. 2 floors, 39 cama (bed) seats and personalised TV screens (although with limited movies and all in Spanish)
The Cruzero Plus: These buses have 2 floors with the 1st floor having cama seats and 2nd floor having semi-cama seats
The Cruzero Evolution: With 2 levels, the 1st floor have cama seats and the 2nd floor have semi-cama seats. All seats containing super soft sponge foam
The Cruzero Tour: A bus with 2 levels, all with semi-cama seats.
The Ica Express: A 1 floor bus with semi-cama seats – These buses are only used on short journeys to and from Ica
IS CRUZ DEL SUR SAFE?
Usually quite a safe option however, Cruz del Sur have a history of reporting accidents. They are usually smaller accidents but however, throughout 2016, they reported 2 passenger deaths in 10 accidents, as well bus hijackings taking place over the last 5 years on their Lima-Ica-Nazca-Cusco route. Like Cruz del Sur, most public bus companies in Peru go on this route which crosses the Andes mountains travelling from Lima to Cusco and Cusco to Lima. This route is slightly faster (by around 5 hours) however, is a lot riskier as buses lose their GPS tracking in the mountains and anything can happen without the companies finding out.
---
ENTERTAINMENT TIP: If looking for fun at night, or to watch sports during the day, or even a taste of home, visit the Wild Rover Hostels Chain for great food, sports and beer! Entrance to their bars is free even for non-guests
---
Unfortunately, thieves are smart enough to know this and by putting one of their own on the bus, they can communicate and organise the arrival time of a bus to an exact location. Once coordinated, the group of thieves in the mountains will place large rocks on the road in order to block it off and stop the bus. Once stopped, they will approach the bus with guns and force the driver to open the door so they can get on and take everything from travellers. In one of the most recent hijackings of a Cruz Del Sur bus passengers on-board were robbed of over $50,000 worth of belongings and money!
Unfortunately, these incidents happen frequently on this route and other well known local bus companies such as Civa, Movil and Oltursa have encountered the same issues. For this reason, tourist companies such as Peru Hop have come along to provide the best level of service and safety to travellers by using the slightly longer route which goes by Arequipa. The reason for Cruz del Sur still being quite a popular service is because local Peruvians need to get to their destinations quicker and can take the risk of travelling on the more dangerous route.
ROUTES AND BUS SCHEDULES COVERED 
Cruz del Sur's coverage ranges across all of the major routes in Peru.
If looking for a Cruz del Sur bus on any of the following routes, click on the link and see our information as to whether or not they cover that route.
BUSES FROM AREQUIPA – Cruz del Sur cover most major routes from Arequipa such as Arequipa to Lima and Arequipa to Cusco
BUSES FROM LIMA – Cruz del Sur cover Lima to Cusco and Lima to Arequipa as well as Northern Routes to Mancora
BUSES FROM CUSCO – Finished Machu Picchu? Cruz del Sur have buses from Cusco to Arequipa and Cusco to Lima
BUSES FROM ICA – Going sandboarding in Huacachina (near Ica). Cruz del Sur have buses running in all directions!
CRUZ DEL SUR – THE BEST BUS COMPANY IN PERU?
To answer this, we wrote another blog post where we analyse if Cruz del Sur is the best company in Peru, by comparing them with a number of other bus companies.
DO WE RECOMMEND TAKING CRUZ DEL SUR?
Yes and no. If you're travelling up towards the North of Peru from Lima to places such as Huaraz, Trujillo or Mancora, then yes, travelling with Cruz del Sur is a good, comfortable option. If travelling around the South of Peru to destinations such as Ica, Cusco or Arequipa, then we recommend going with Peru Hop as it is a much safer option and we believe they are a better company. For travel within Ecuador, consider Ecuador Hop as well.
What do you think? Do you agree with us or disagree? If you've ever taken Cruz del Sur or another company that wasn't mentioned in our article, let us know what you think in the comments section!
Did you know
- The Lima Walking Tour leaves from the Tourist Information Center at 799 Avenida Jose Larco in Miraflores every day at 10:15 am. Visit our
Blog
for more information!